Priest : Mother Christina van Liew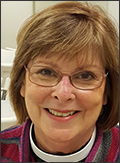 Education:  Montclair High School (1968), Connecticut College, Antioch College, Boston University School of Nursing (1975), The General Theological Seminary (2004).
Mother van Liew was born and raised in Upper Montclair, NJ.  She moved to Portland Oregon in the late 70's where she raised two children, volunteered in the community through the Junior League and church, and worked as a nurse case manager for high risk childbearing families. 
Baptized in Trinity Wall Street and confirmed at St. Luke's Montclair NJ, she left organized religion in the late 60's.  For a decade or so she explored various spiritualities, returning to organized religion when she wanted her firstborn to be baptized.  Discovering the many changes that had occurred during her absence, she found her spiritual home once again in the Episcopal Church.  These journeys, including an introduction to Twelve Step Programs, shape her appreciation for the diversity of God's presence in all religions, cultures and daily life.  She was surprised to find herself "called" to the ordained priesthood in her late forties.   She returned to the East coast to complete her studies at General Seminary, and graduated in 2004.   Her first position was curate at St. John's Church, Cold Spring Harbor, NY, where she was ordained to the priesthood in 2005.  Eighteen months later she was asked to "midwife" the merging of St. Andrews', Williston Park and Nativity, Mineola, as Priest in Charge.   They chose "Resurrection" as the name of the newly consolidating parish, because they knew the pain of dying and the hope of finding new life in God's love.  On October 23, 2011, six years to the date after first worshiping together, Mother van Liew was installed as the first Rector of Resurrection.
She has two grown married daughters. One lives in Melbourne Australia, the other, with her only grandchild, lives in Fort Worth Texas.  She resides with two lively and loving lap dogs: Gracie and Dylan, and enjoys once again being closer to family and friends on the East coast.  
Parish Administrator : Patricia (Patty) Hayes

Patty comes to us with extensive experience in marketing, coordinating calendars and logistics, people skills, data coordination, creating and updating materials, website and social media, and vast computer skills. Her executive skills readily translate to our setting with a warm personality and utmost appreciation of volunteer dedication to ministry.
She lives in Stewart Manor with her husband Joe and two children, Maggie, 14 and Catherine 11. For fun she enjoys planning her next trip, both near and far. She worships at St. Anne's Church in Garden City.
Ellen taught general music for 25 years in Freeport School System.  As accompanist at Freeport High School for their Select Choral, she toured the East Coast, Canada and England.  She was Choir Master, organist, bell choir and conductor of cantatas at St. George's Hempstead from 1999 to 2008.  Just when she thought she was retiring from full time music ministry, Ellen was persuaded to become our Sunday Organist.  After playing at the 8 am service at St. George's she comes here for our Sunday Eucharist.  In addition she plays for Holy Days, special services, and coordinates seasonal brass ensembles and choirs.  Ellen states that music has always been a God-given force in her life, and she will continue to share her music with others.  Glory to God in the highest!